AREA PROFILES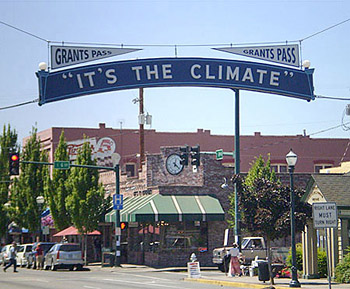 GRANTS PASS
Located in Southern Oregon about 60 miles north of the California border, Grants Pass is known for its mild climate and is located in the "sun belt" of Southern Oregon. It is a town filled with beauty, history and scenic attractions. Downtown Grants Pass has earned the distinction of a National Historic District because of its historic buildings and homes. The city is filled with antique and collectible shops, beautifully restored historical buildings and espresso stands.

The highlight of Grants Pass is the mighty Rogue River flowing through town. Riverside Park is located right on the Rogue River and is a wonderful place to picnic and walk along the Rogue. The city is often referred to the "whitewater rafting capital" of Oregon and over 25 outfitters offer rafting adventures in Grants Pass and nearby Merlin. Jjet boats that leave from Grants Pass and take visitors on a tour through Hellgate Canyon. Grants Pass abounds with modern campgrounds and RV facilities, many with boat ramps and riverside campsites. Josephine County has an extensive system of parks, and many of these are on the Rogue River.
MEDFORD
Located on Interstate 5, just 27 miles north of the California-Oregon border. It is about 26 miles south of Grants Pass. Medford is situated in the heart of Southern Oregon's beautiful Rogue River Valley. Pear orchards bloom profusely in the spring, The summers are very warm and fall colors are beautiful, with Snow-capped peaks in winter.

Few places in Oregon combine scenic beauty, outdoor recreation, historical, and cultural attractions more successfully than Southern Oregon. Medford, the county seat of Jackson County, is the industrial, retail, and professional center of Southern Oregon.

Years ago the Rogue River Valley was home to the Shasta, Takilma, and Athabascan Indians. Then gold was discovered in 1852 and miners thronged to the valley in search of a fortune in nuggets, followed by farmers lured to the valley by the fertile soil and favorable growing conditions. Today, Medford, is the business and professional center of Jackson County.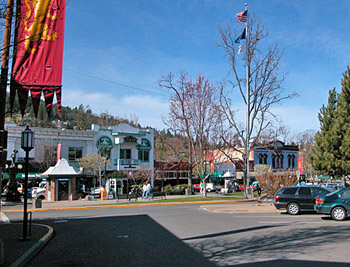 ASHLAND
Ashland is located 15 miles north of the California border on Interstate 5 at the south end of the Rogue Valley, sitting at about 2,000 feet above sea level. Mt. Ashland looms above the city to the South, 7,500 feet high, and the Cascade Range lies about 30 miles to the east. Ashland offers qualities of life that many towns only dream about. Snow-capped mountain peaks, a major theater company joined by other smaller theaters, art galleries, museums and fine restaurants offer a truly picturesque setting. Ashland is a unique place, offering a ski resort in the winter, and three other distinctive seasons. With its warm summers and mild climate, Ashland is an excellent place to garden and enjoy the outdoors and local river activities.

Ashland & Rogue Valley is known as "pear country." The climate is also conducive to growing grapes, and Ashland has two local wineries. Ashland has an active and varied theatrical community and is home to the Oregon Shakespeare Festival and nine other theater groups, which perform a wide variety of productions and musicals all year long.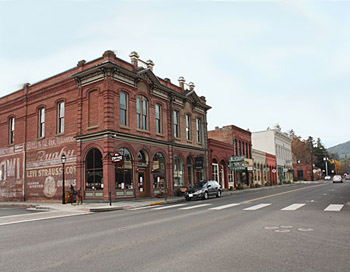 JACKSONVILLE
Located about seven miles west of Medford and fifteen miles north of Ashland Oregon. Jacksonville is one of the most historically significant communities in the western United States. Filled with historical landmarks this town offers visitors to share in the experience of a bygone era. Jacksonville is filled specialty shops, cozy inns, museums, fine restaurants and other historic attractions. People from all over come to dine in Rogue Valley's best restaurants still in the original brick and wood.

There are Antique stores, Galleries, Book Stores & Boutiques. Jacksonville is Home to the Britt Festival. More than 100 individual buildings are on the National Register or Historic Places. In 1966, the entire town of Jacksonville was designated a National Register of Historic landmark by the U.S. Department of the Interior. There are historic Inns and Bed & Breakfast Inns, most are actual historic landmarks that reflect the mystery and elegance of an earlier era. Jacksonville is one of the first towns se up in the Rogue Valley.
OTHER CITIES &AREAS ARE:
APPLEGATE VALLEY
CANYONVILLE
CAVE JUNCTION
CENTRAL POINT
EAGLE POINT
GOLD HILL
HUGO
ILLINOIS VALLEY
KERBY
MERLIN
MYRTLE CREEK
PHOENIX
ROGUE RIVER
SELMA
SHADY COVE
SUNNY VALLEY
TALENT
WHITE CITY
WILDERVILLE
WILLIAMS
WOLF CREEK
SOUTHERN OREGON IS A GREAT PLACE TO LIVE
LET MY LOCAL AREA KNOWLEDGE WORK FOR YOU